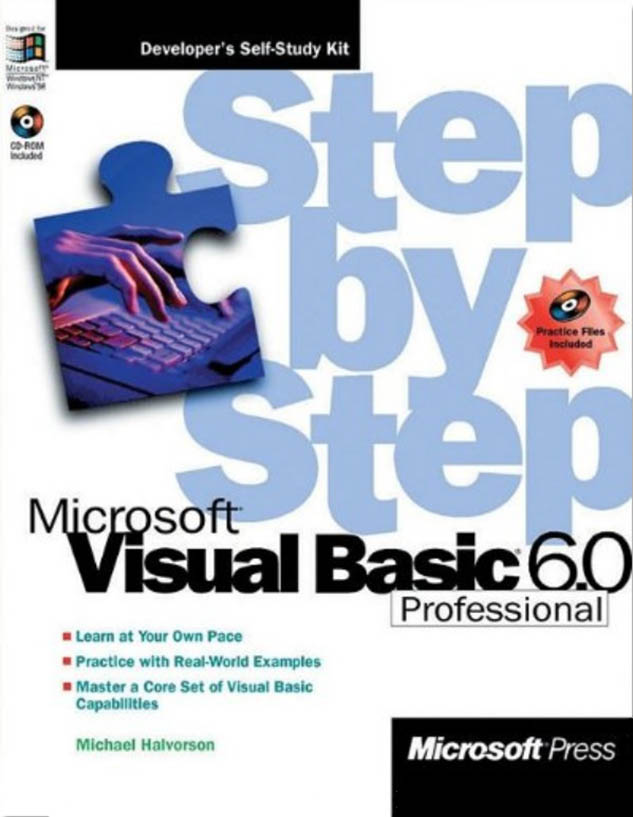 Published: August 22, 1998
ISBN: 978-1572318090
Publisher: Microsoft Press
Length: 672 pages
Microsoft Visual Basic 6.0 Professional Step by Step
A widely-read Visual Basic programming tutorial that topped the bestseller charts in 1998 with the maturing Visual Basic Programming System.
In 1998, Microsoft Visual Basic achieved prominence as the #1 selling programming tool for Microsoft Windows, with an installed base of 3.5 million users. That same year, Halvorson's Visual Basic 6.0 Professional Step by Step became the #1 selling VB book in North America.
Halvorson's programming primer is a modular, self-paced learning tutorial featuring 24 one-hour lessons that explore Windows programming and the fundamental techniques of software development.
The first half of the book introduces Visual Basic (VB) and the process of creating event-driven Windows applications with the VB6 Programming System. The second half introduces VB6 Professional Edition tools and techniques, including creating Windows apps with multimedia features and establishing connections to Microsoft Office applications. Also included are tutorials exploring powerful ActiveX controls that manage Web pages, process RTF files, integrate progress bars, and play audio CDs.
Over 250,000 copies sold.
Reviews
"In two dozen easy-to-follow lessons, Visual Basic Professional 6.0 Step by Step covers all of the fundamentals of programming with VB6. The sheer number of projects and abundance of source code provide a valuable resource that will help beginning programmers get started quickly." -John Keogh (Amazon.com)
"If you've never programmed before but are aching to get started, all you'll need is the Microsoft's Visual Basic software and a book like Michael Halvorson's Step by Step." -Anonymous reviewer (Amazon.com)
"Let me state that I have been through many, many books on how to learn Visual Basic 6.0. I've done Dummies, the Sams 21 Day, John Smiley By Examples book, and the Peter Norton VB book. Halvorson's book is the best. I'm looking forward to his next book on programming! -A Thriftbooks.com User
Other Titles by Michael Halvorson