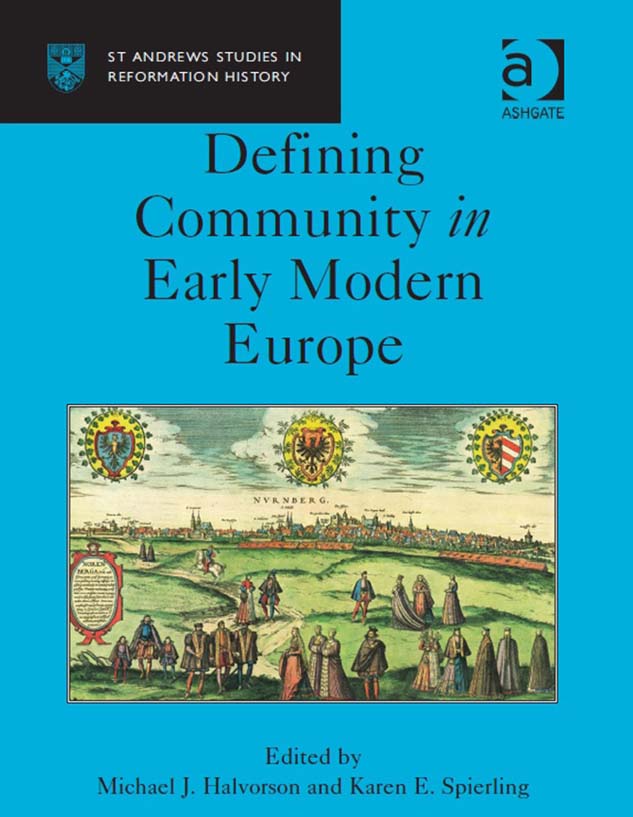 Published: November 28, 2008
ISBN: 978-0754661535
Publisher: Ashgate Publishing / Routledge
Length: 372 pages
Defining Community in Early Modern Europe
Edited by Michael J. Halvorson and Karen E. Spierling
Original essays about the nature and power dynamics of early modern European communities. Widely cited and used as a model for future studies about the complex makeup of human communities.
This collection of original essays, by leading scholars in the field of early modern European history, illuminates the variety of ways in which communities were defined and operated in France, Geneva, the German Lands, the Spanish Empire, the Netherlands, England, and Scotland.
In some cases, community values were imposed by community leaders and negotiated across society. At other times, they were defined by belief, behavior, and powerful memories. Communities could be marked by rigid boundaries and conflict, or flexibility and change. These definitions were also shaped by art, ritual, charity, and devotional practices, or by the contending and overlapping boundaries of family, religion, and politics.
At a time of increasing interest in community studies, this book helped to demonstrate the complex and changeable nature of European communities. The volume helped scholars to understand how communities were created and perpetuated, and led to numerous regional and transnational studies.
Reviews
"Defining Community offers rich observation and analysis of community life, which will appeal to a broad spectrum of scholars."  –Journal of Ecclesiastical History
"This excellent collection of papers demonstrates how current cultural historians can do justice to a key idea and human experience by capturing its diversity, complexity, and subtlety. Here community is not sublime but historicized, and thus the volume deserves wide attention among scholars of culture and social interaction."  -Sixteenth Century Journal
"The editors of this excellent volume are firstly to be commended for their informative introduction. They provide a very useful overview of recent research into community formation and definition in early modern Europe, stressing both the factors that allowed social, religious and political groups to assert their identity and also the many issues that made sustaining community cohesion an endlessly challenging task."  -Reformation and Renaissance Review
"As a preliminary effort to assess the state of the field of communal studies, this volume of essays is a most welcome and appropriate addition to the literature."  -Religious Studies Review
Other Titles by Michael Halvorson